Steel Buildings Warehouse in Lahore
Steel Storage Building in Lahore
Ittefaq group of steel buildings are the right building system for steel building warehouses and distribution centers, no matter size. Our company buildings system offers benefits for the warehousing industry which are unavailable with other sorts of construction.
Save the maximum amount together third on construction time with the Ittefaq group building system. All components are cut, welded, and drilled at the factory for quick assembly at the worksite. Delivery is quicker too, usually within six to seven weeks from order, to urge your material handling operation up and running as quickly as possible. (Some standard model steel buildings warehouse can deliver in as little as four to 5 weeks.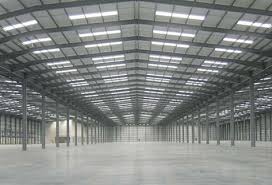 The company of steel building warehouse are built strong to last long, retaining their structural integrity, beauty, and value for several decades.
Lumber is that the favorite source of first ignited material in warehouse fires; framing lumber is that the number two source. Steel framing is noncombustible and can't be ignited, nor can it add fuel to a fireplace.
The company rigid frame steel framing is so strong it can span much larger areas without having cumbersome interior support columns. That permits steel building warehouse operations more flexibility in storing and moving their products quickly and efficiently. The company standard steel warehouses can span up to 150' in breadth with none interior supports; custom designs can clear span up to 200' in breadth or more. Widths up to 480' are possible with a load-bearing column within the center of the building. We, the company buildings are often any length you would like. Building heights up to 40' are standard, allowing the warehouse owner to take advantage of vertical dimension for greater SKU (stock keeping unit) capacity. Even higher buildings are available with a custom quote. Steel building warehouse plans also can include mezzanines if desired.
Options: our Company, steel warehouse building are often designed with extra loads for sprinkler systems, ceiling cranes, or the other specialized needs. We, offers a full range of exterior options, with the colorful, durable steel wall and roof panels. Exteriors also can be finished with brick, stone, tilt-up concrete, glass, stucco or the other facade of your choice.
Whether you would like a modest 5,000 sq. ft. storage facility or a 500,000 sq. ft. or larger import mega-warehouse, Ittefaq Group is that the best buy for your material handling operation. Our experienced technical advisors can assist you to create the perfect warehouse for your business needs.