Wahdat industrial services (pvt.) ltd.
MANUFACTURERS OF AUTOMOTIVE & SHEET METAL PARTS
A Subsidiary Company of Ittefaq Group
Wahdat Industrial Liaison Services was established in 1990 with the aim to supply quality automotive Sheet Metal Parts to original equipment manufacturers (OEMs) in Pakistan.
Starting with only one OEM, our company in a very short span of time earned a reputable name in the automotive industry. Presently, we are supplying quality automotive parts to most of the leading OEMs of the country. We have been serving our clients across various industries and OEM's such as Millat Tractors Limited., Massey Ferguson., Sazgar Engineering Works Limited., Pak Suzuki Motor Company Ltd., KIA Motors., Hyundai Motors (Private) Limited. This achievement has been possible through our strict quality control, prompt deliveries and competitive prices. To further improve our system and quality standards we also achieved "ISO 9001-2015; ISO-45001:2018" certifications.
The Company decided to revamp its structure and marketing strategy in 2018. Today our Factory covers 100,000 sq. /ft. and is equipped with the latest technology aids in the sector. The facility is located at 14 km Sheikhupura-Sharaqpur Road. New logo along with new brand name under Wahdat Industrial Services (Pvt.) Ltd were introduced in the market. This change in strategy has been welcomed by the clients and strategic partners. Modernism and innovation have been made as one of our main focus now.
Currently Wahdat Industrial Services (Pvt.) Ltd offers a range of services to the customers like product design, dies and tool development, manufacturing and assembly, quality testing and direct supplies to the assembly line of OEM's.
Mission
"We intend to become globally competitive and a symbol of quality among the peers by using innovative ideas for development and investing in new production techniques with strict quality policy to ensure ever-changing global standards. We believe the key to success is to adhere with the concept of continuous up gradation."
Vission
Our vision is to cater the market with an aim where our name stands for precision quality and performance through a setup that makes our customers feel at home. We also ensure to use research, design & development facilities and production to a level that can satisfy our local and international partners through incorporating latest concepts and technology to match the pace of time.
We work with a wide range of materials, including but not limited to:
Cold Rolled Steel Sheet
Hot Rolled Steel Sheet
Mild Steel Rod
Steel Wire
Mild Steel Pipes
Mild Steel Angles
Galvanized Steel Sheet
These state-of-the-art facilities enable us to meet our client's challenging demands. Vice versa, they provide valuable in-house resource for speedy production of accurate tooling.
Wahdat Industries produce high quality precision tooling for the development of intricate dies and fixtures. We have a diverse engineering staff that can assist customer's challenging demands simultaneously achieving their loyalty and satisfaction.
Software used for Designing and Molding include:
Power Shape for Designing & Molding
AutoCAD for Designing
Solid Works & Tool Making
The procedure of die making is as follows:
Die is designed on CAD/CAM software by the experts, after which the CNC machine produce dies according to the design. Then the procedure of Die Polishing and Fitting takes place after which Die spotting takes place. After all of this procedure the trial and evaluations of dies is done to minimize errors and to ensure premium quality.
Our press shop is equipped with mechanical power presses. Capacity of these presses ranges from 25 Tons-150Tons.
A range comprising of different capacities of Hydraulic Presses is available to cater drawing requirements of multiple jobs simultaneously.
Welding shop consist:
Electric Arc Welding
Spot Welding
CO2 Welding
Butt Welding
Wahdat Industrial Services (Pvt.) Ltd offers result oriented metal finishes with dedicated Electroplating services that can with stand Salt Spray Test of automotive OEMs.
Cyanide zinc electroplating is carried out in this shop. We have the capacity to plate 3000 kg (3 Ton) of steel parts daily. Electroplating is carried out through Barrel and Tank according to specific requirements of process. We use Trivalent Passivation's instead of toxic hexavalent passivation.
A schematic 7 stage pre-treatment systems is installed to remove all types of Dust, Dirt and Rust prepares part base that ensure the exact promises of paint quality standards required by our esteemed clients.
Degreasing
De rusting
Phosphating
Multiple Rinsing
Drying
Painting
Baking
Before dispatching our skilled workers handle the finished Products with care and pack them gently into relevant boxes.
The store keeping helps to receive, issue the material in the right quantities at the right time to the right section/department.
Wahdat Industrial Services (Pvt.) Ltd. aims to become the leading OEM suppliers by delivering quality automotive products.
This shall be achieved through:
1. Continuous improvements of processes and operating systems.
2. Customer feedback and improvements accordingly.
3. Employees training and development of skill levels.
4. Periodic analysis of achievement and objectives.
LABS:
Wahdat provides in-house lab testing facilities available in Quality and Development
Department.
These tests include:
Contamination Test
Titration Test
Seam Welding Test
Salt spray Test
Pull Test
Rock well hardness Test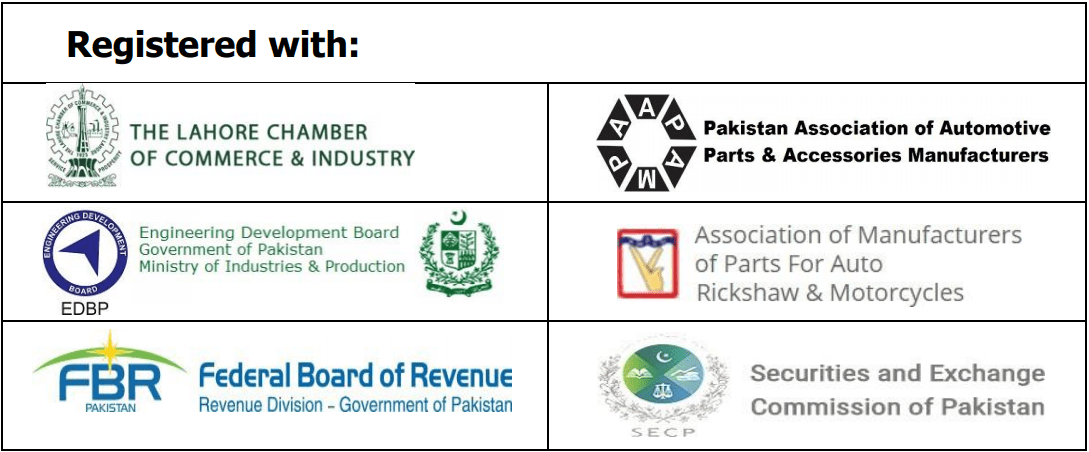 AWARDS:
In recognition to our commitment and dedication to work, we have received a range of achievements and credentials from our customers, which include timely sup pliability, well-timed development, best quality and overall outstanding performance awards.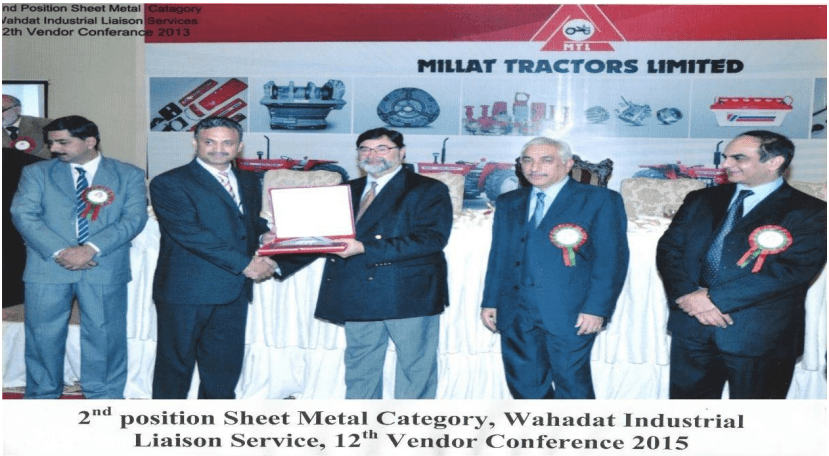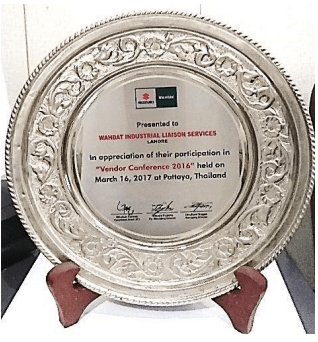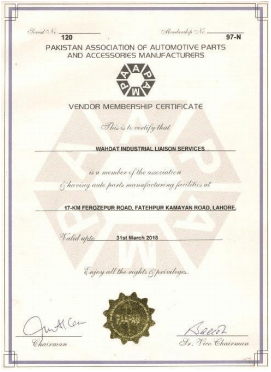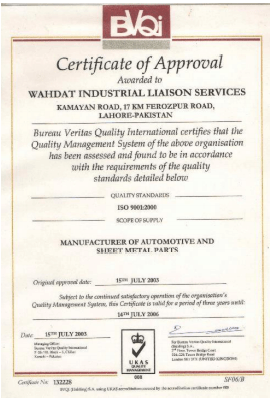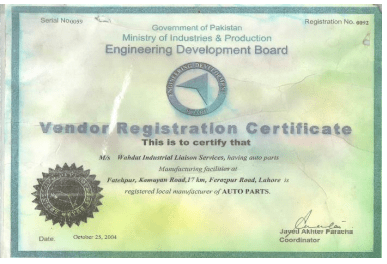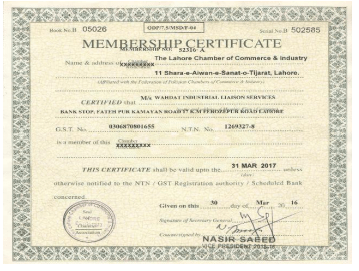 Factory Address
14 KM Sheikhupura Sharaqpur Road.